Strategic • Honest • Transparent
We Always Strive to Exceed Our Client's Expectations
Our experienced attorneys are ready to walk you through the legal process whether you need help with immigration, bankruptcy, debt settlement, family or real estate law.
West Palm Beach Immigration Lawyers
All People Are Equal under the Law — a Good Attorney Is What Makes the Difference
For many people, successfully immigrating into the United States is a complex process that can take months or even years. At Asghar Law, we can help you apply correctly and avoid common mistakes that can cause delays. Many different visas exist to help people from various backgrounds enjoy residency in the U.S. Our firm keeps a small caseload to ensure each client receives the small-firm focus and attention they deserve. By calling today to schedule your initial consultation, you can get started on planning your visa or green card application process and preparing for the steps ahead. Let our West Palm Beach immigration lawyers help you and your family reach your citizenship goals with careful planning and clear guidance. Call today.
As an immigrant himself, Shaz Asghar has firsthand experience with the immigration process and can provide clients with the in-depth knowledge and insights that can smoothen the process. He became a lawyer to help people facing legal challenges, and since opening Asghar Law, has devoted his practice to creating effective strategies to help clients obtain favorable outcomes for their cases. Mr. Asghar also offers legal service in the areas of real estate law, bankruptcy, family law, and debt settlement. With our team on your side, you will have access to an aggressive attorney who will fight to protect your interests. Call (561) 609-0032 today to schedule your consultation. Se habla español.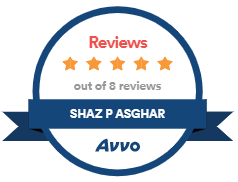 Our Immigration Practice Areas
Legal Services that Fit Your Needs
Asghar Law offers more than comprehensive immigration law services—we also help clients with legal concerns that deal with their finances and families. Whether you are being contacted by a collections agency or need help with a child support issue, our firm is ready to take your side and help you fight for a prosperous future. Your case is important to us. Each of our staff is committed to providing you with clear advice that best helps you through your unique situation. Don't wait to get started on your case. Call our West Palm Beach immigration lawyers today and begin planning the next steps in reaching your legal goals. Our client's success is everything, and we work hard to be completely prepared for each event that arises in your case. Call today.
Meet Shaz Asghar
Client Testimonials
Our Clients' Success Is Everything
I would definitely recommend Asghar law to friends and family! - Chant Ali

They treat clients like family and they are so professional. - Akin Kunle

He made the process very smooth and did everything he promised and more. - Shiree Lyons

His work just really shows he cares! - Shahida Thompson

It gives me great pleasure to highly recommend his immigration legal services. - David Fawkes